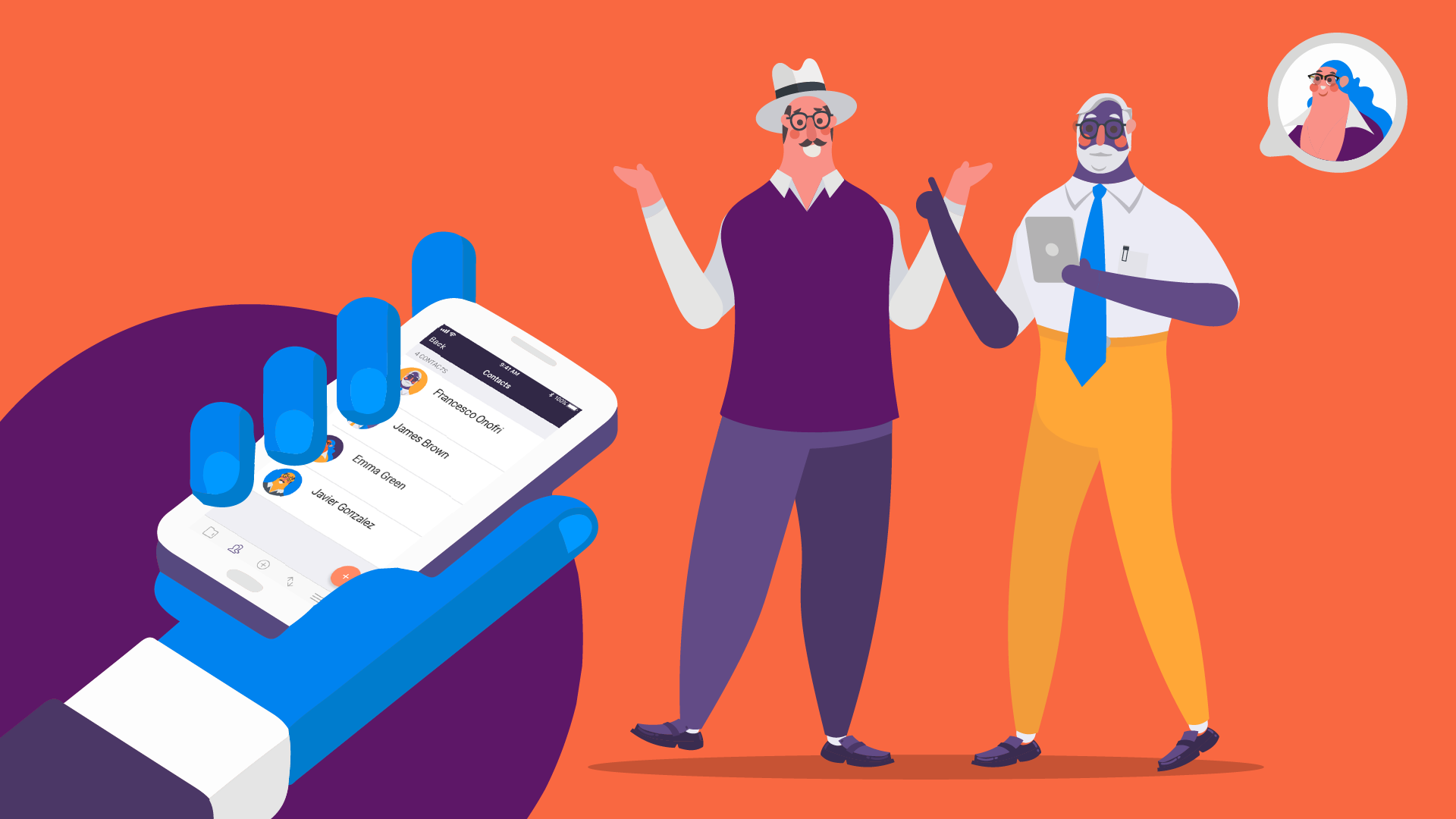 We introduced you to the HushApp contacts, one of the most interesting features of our app. It is one of the few transfer applications where you can manage your contacts in a very simple way, while also guaranteeing that your files are protected through the entire transit process thanks to its end-to-end encryption system.
HushApp contacts have a section within the application that you can easily locate in the lower section of the screen, on the left side, right next to your Hushbox. Once entered, you will be able to visualize them and we will show you how to handle them.
One of the advantages of the Android version is that it will automatically show you all the contacts you have in your phone's calendar. This means that you don't have to add them again; you can also add others if you want.
1) Add your HushApp contacts
When you access this section, you will have an option to add (orange button with the + symbol) located in the lower right part of the screen. There you can add your contact,. i If they are already registered to the application, just by writing the first letters of their name will appear immediately, click on the "add" button and itthis contact will alreadybe placed be among your existing HushApp contacts.
You can notice that yourYour contacts are identified in the same way in your personal agenda, it even includes their avatar, so that you can locate them easily.
2) Secure sending with your HushApp contacts
Sending files to your contacts from the HushApp is very simple, you. You just simply have to choose what you want to send from your Hushbox or upload them through the Dashboard (the purple screen located in the middle section at the bottom of the app). Then, select who you want to send the information to by clicking on the people chosen.
3) Sending to contacts that do not use the application
You can also send to acquaintances who do not use the application, you only have to add their email address in the same contacts section.

The only step that must be taken is that you will have to add a password and send it through another source in order for them to access the information sent. This will guarantee that your files will be safe from falling into unauthorized hands.

When making a transfer from the Android version, you can add a note to any of your contacts if you wish, with the peace of mind that this note can be read only by you and your recipients.
4) Control transfers of your contacts
Another advantage of being able to manage your HushApp contacts, can be found in the  is in the "Received" tab, . Here you will be able to control the sent transfers. You can see the date and time of each transfer, and  and who sent it to you, all while having always with the peace of  mind that your files remain are safe and that nobody but you can access them.from anyone unauthorized.
Do you want to know more about HushApp? Watch this simple tutorial
Any additional questions contact us through: [email protected]