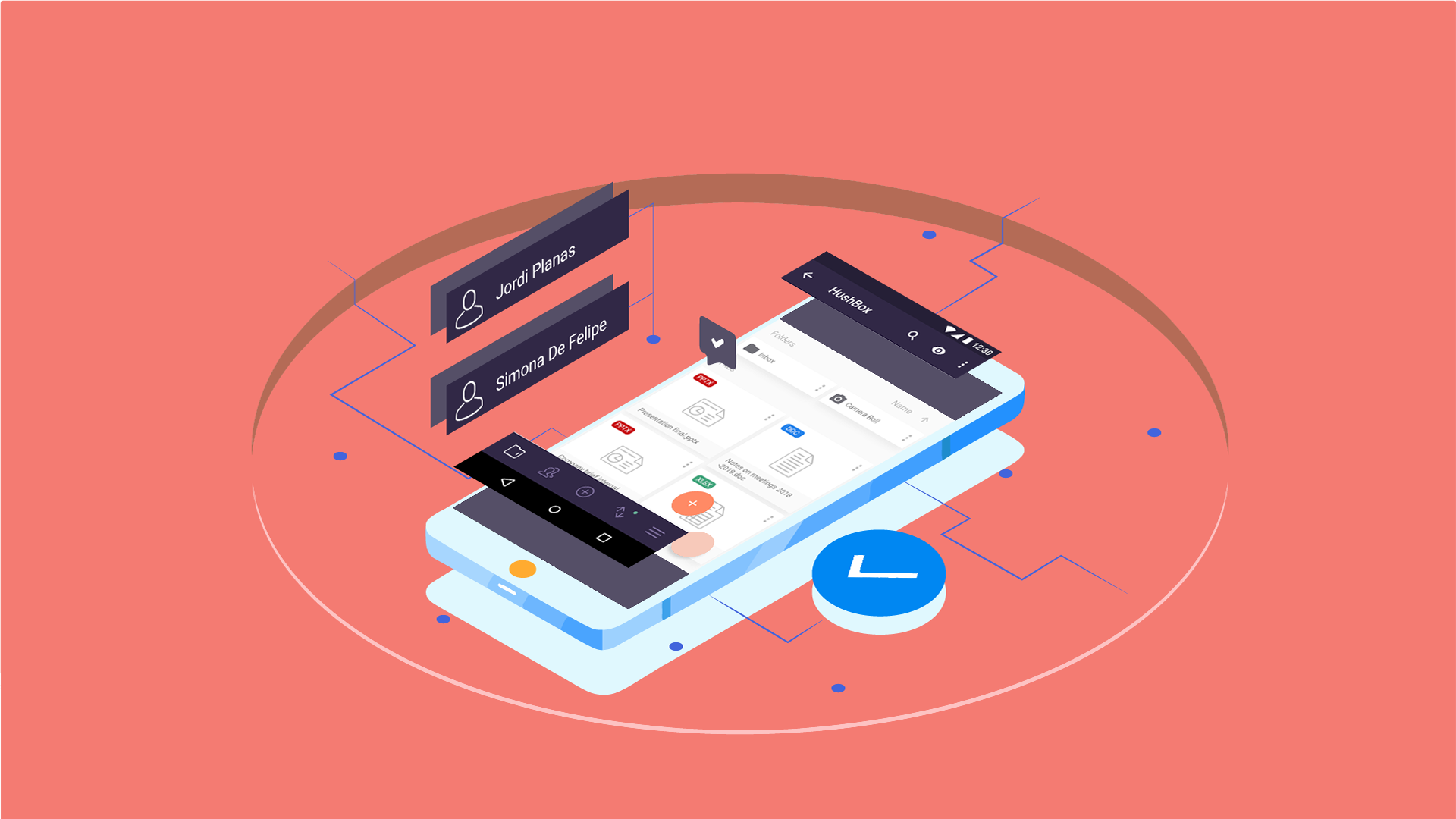 Previously we introduced you to the HushApp, a web and mobile application that helps you send and store any file in an easy and secure way, but how? The answer lies within the multiple features that the app possesses. One such example is end-to-end encryption, which gives your files a heightened level of security. Another feature exclusive to the Android version is the HushBox. Further down we will explain the three things you can do with HushBox to effectively protect your data.
When you enter the application your first access point will be the Dashboard, a purple screen from where you can send your files. At the bottom of the screen the different sections available to you will be visible, the icon further to the left will take you to the HushBox.
What can I do there?
3 things you can do with your HushBox
Save files
When you enter, you will find a space where you can safely store all kinds of files: photos, videos, presentations, documents, etc. These files will remain encrypted in the device, ensuring that nobody but you can access the information within.
One of the advantages of the encryption method used by HushApp is that it encrypts files separately, which gives you both a higher level of security and easy access to individual files. You can open a document to view it, and when you finish, it will remain protected.
How to save them?
When you access this section you will have an option to add (orange button with the + symbol) where you can select folders or files on your device that you want to protect.
To get more out of your HushBox, when making a transfer, you have the option to choose to have that file automatically saved securely.
Sharing files
Sharing files securely from the HushBox is a simple action. You only have to click on the document options (the three points above and to the right) and choose "share". Select the contacts you want to send your files to (even if they do not have the application, you can add their email address) and voila! your files were shared safely, and only those who you have chosen can access them.
Organize files
In the received tab, you can control the transfers that your contacts send you. These files will be saved in the inbox folder of your HushBox. From there you can organize them by folders as you decide with the peace of mind that all your information is still protected.
In HushApp, only you have control. Do you want to know more about how it works? Watch this simple tutorial. 
Any additional questions contact us through: [email protected]