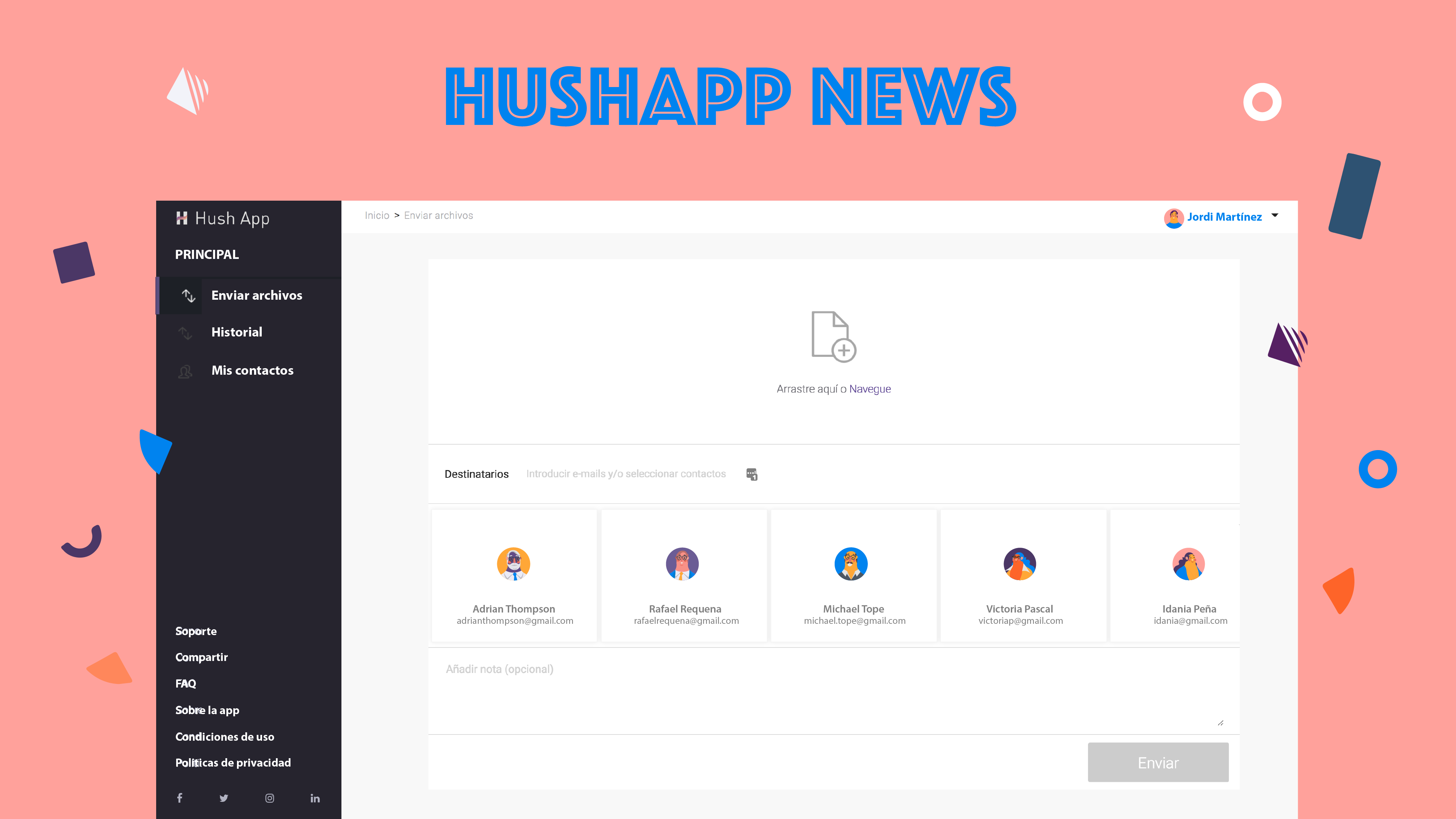 We have news in HushApp! We have mentioned the advantages of  the zero knowledge technology in HushApp and how incorporating a passphrase provides for additional security. The HushBox makes it easy to manage contacts by giving the option to send to HushApp users or non-users. Now we have made some improvements and we come to introduce to you the latest updates to the HushApp web application.
We have implemented high-level encryption methods, seeking a simple and transparent process for the user, without affecting the efficiency of your mobile or computer. Therefore, security, usability, and a good user experience are our priorities.
The new presentation in our web application simplifies and unifies the processes to send and share files in an easy and safe way, while still managing to follow our principles.
This is the news that we bring from the HushApp web application
After logging into the web, either with your email and passphrase or with one of the available social accounts, you will enter the main screen to make your submissions. You then will be able to attach files to send to others via email. You will also notice that you can see in the middle of the screen, the tabs of your contacts that you have previously added, and that if you wish to add an additional one in the "recipients" section, it will appear automatically. 
When you have several contacts, you will notice a bar that you can slide to the right to see all the people added. Since they will be easily accessible, it will be painless for you to find the contacts to whom you want to send.
In addition, there is a new functionality to add contacts that are non-users of HushApp. If you would like to send documents to non-users you simply need to select the "recipients" section and create a password or passphrase. Then inform that contact of the password so that they can access your file.
Below the contacts, we have another new feature, a space to add a note, which is also sent encrypted. This new functionality is optional, but allows you to customize the message. Any details about transfer or additional information about the contents is recommended, however, HushApp users seeking to send to a non-user should not include the password or passphrase needed to access their files.
As a last step, just click on the send button and go! Your files have been sent securely, and no one other than you and the recipients you chose will be able to access the information.
People who seek to use applications prefer the process to be easy and efficient. At HushApp, we work every day so that when you need to send a secured document you can do so pleasantly and above all conveniently.
We invite you to try the new version of the HushApp web application …